AMTmetalTech Top Quality World Lowest Price NiAlMo High Aluminum Nickel Alloy
Powder for Thermal Spraying in the Hydrogen Production Industry
Date Sep. 05, 2022
Hydrogen is completely the clean ideal energy with high efficiency. Electrolytic Alkali Water production technology, which schematic diagram as below picture, is now quickly spreaded over the world. Traditional hydrogen generators use nickel mesh as the hydrogen generation cathode.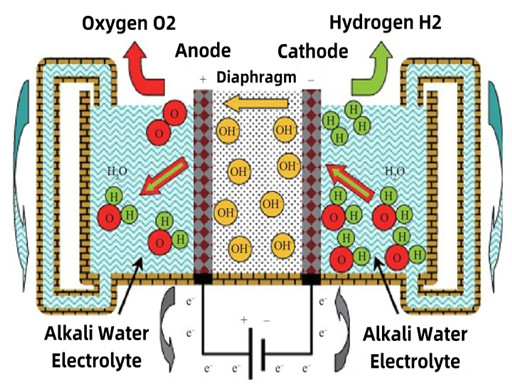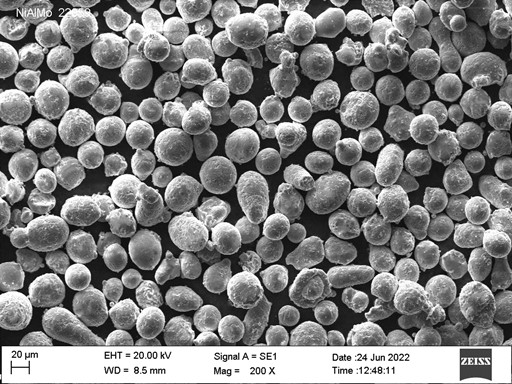 Alkali Water Electrolytic Hydrogen Schema NiAlMo Thermal Spraying Powder
For greatly increasing the catalytic capability of generating the hydrogen on the Nickel Mesh Cathode, it is very important to create the porous catalytic coating by thermal Spraying on the nickel mesh cathode.
According to the scientist research from many thermal spraying powders as below, the NiAlMo Nickel Aluminum Molybdenum Alloy coating by thermal spraying is the best to increase the catalytic capability of generating the hydrogen on the coated Nickel Mesh Cathode.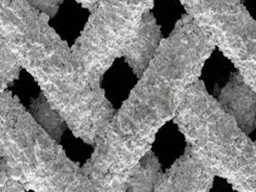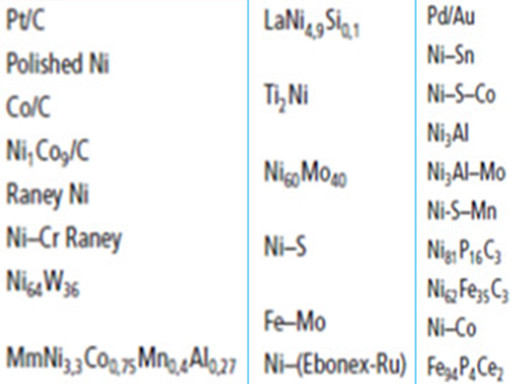 NiAlMo Powder Thermal Sprayed Nickel Mesh Cathode Thermal Spraying Powders Tested
This best Nickel Aluminum Molybdenum NiAlMo alloy powder requires high Aluminum content about 10-50% and high Molybdenum content about 3-40%, which is non disclosure now. To produce this high Aluminum Nickel alloy NiAlMo powder for melting 3 metals of very big different melting temperature with homogeneous chemical composition and low oxygen is not easy. The inspection of high Aluminum in the Nickel alloy NiAlMo Precisely is also a challenge.

AMTmetalTech is now producing the NiAlMo high Aluminum Nickel alloy thermal spraying powder by Vacuum Inert Gas Atomization VIGA in many tons monthly and can inspect the high Aluminum in Nickel alloy NiAlMo Precisely after sufficient experience, which has been selling to the Europe very well. The typical powder size is 25-63um as above powder picture. Other chemical composition and size of Nickel Aluminum Alloy Powder can be customized as well. AMTmetalTech Philosophy is Always making various Atomized Alloy Powders at Consistent Top Quality, Continuous Lowest Price, Quickest Delivery in the World! Why not send your powder inquiry by email to export@AMTmetalTech.com as your 2nd supplier? For more information of AMTmetalTech Top Quality Competitive various Thermal Spraying or Laser Cladding Alloy Powders, please visit www.AMTmetalTech.com/StandardProducts/.
Keywords: Nickel Aluminum Powder, NiAl Powder, NiAlMo Powder, Nickel Alloy Powder, Thermal Spraying Powder

Please send us email to export@AMTmetalTech.com about Nickel Amorphous HVAF or HVOF Tube Inside ID Spraying Fine Atomized Powder Better Corrosion risist than Hastelloy C276 / Inconel In625 / Stellite of severe Erosion, Cavitation, high temperature Abrasion resist; Duplex Stainless Steel Powder for Binder Jet Printing / Speed Laser / PTA cladding / Plasma weld overlaying Replacing Chrome Plating for Coated Cylinders / Pistons / Roller / Screw Rotors / Valve / Stirrer Blade / Hydro Turbine Runner; Tungsten Carbide Hardmetal Cemented Clad Mud Pump Liner / Pipe / Sleeve / Glass Mold and Super Wear Plate; PDC Diffusion Bonding, Diamond Bearing etc.