PTA Plasma Weld Overlay or ID Alloy Powder Laser Clad and Ground Shiny
Super Corrosion 1000℃ Abrasion Long Small Tube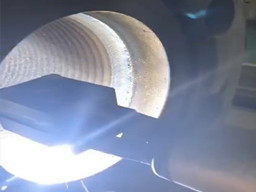 1. AMTmetalTech PTA Plasma Weld Overlay or ID Alloy Powder Laser Clad and Ground Shiny Super Corrosion 1000℃ Abrasion Long Small Tube/Pipe
AMTmetalTech can make the Unique PTA Plasma Weld Overlay or Alloy Powder Laser Cladding for Long Small Tube Inside ID Coating at the smallest Tube Diameter 80mm and length up to 6*2 meters in continuous long time very stable process and consistent cladding thickness, ID Ra0.01-0.1mm.
Pipe Type

Pipe ID, mm

Pipe Length, mm

Coating Thickness, mm

Application

ID Finish

Cladding Alloy Powder

MT-PTA-ID

≥80

≤12000

0.4-5.0

Super Corrosion 1000℃ Abrasion

As Weld, Ground Shiny

Ferro NanoC,

Nickel NanoN,

Tungsten Carbide WC/W2C-NiBSi
2. AMTmetalTech Patent PTA Plasma Weld Overlay or Laser Cladding Alloy Powders for Long Small Tube/Pipe Inside ID Coating
AMTmetalTech offers the PTA Plasma Weld Overlay or Laser Cladding and Grinding Service to customers with Patent Ferro Alloy Powder NanoC at Better Corrosion than 316L and HRC52-62 high Abrasion Resistance, Nickel Alloy Powder NanoN at Similar Corrosion Resist as Hastelloy or Inconel with HRC40-50 and 1000℃ Abrasion Resistance, Fused Tungsten Carbide with Nickel alloy matrix WC/W2C-NiBSi at Corrosion and very good Abrasion Resistance, or other Alloy Powder ID Cladding 0.4-5.0mm thickness and Ground Shiny Long Small Tube at very good quality and competitive pricing.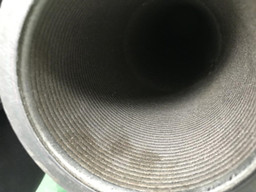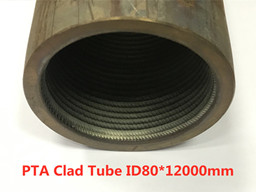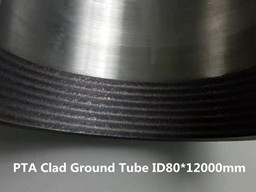 Please send us email to export@AMTmetalTech.com about Nickel Amorphous HVAF or HVOF Tube Inside ID Spraying Fine Atomized Powder Better Corrosion risist than Hastelloy C276 / Inconel In625 / Stellite of severe Erosion, Cavitation, high temperature Abrasion resist; Duplex Stainless Steel Powder for Binder Jet Printing / Speed Laser / PTA cladding / Plasma weld overlaying Replacing Chrome Plating for Coated Cylinders / Pistons / Roller / Screw Rotors / Valve / Stirrer Blade / Hydro Turbine Runner; Tungsten Carbide Hardmetal Cemented Clad Mud Pump Liner / Pipe / Sleeve / Glass Mold and Super Wear Plate; PDC Diffusion Bonding, Diamond Bearing etc.